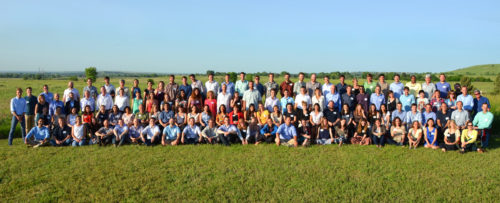 People
Miranda Ballentine has a track record of intra-preneurship in the corporate, non-profit, and government sectors, and across multiple fields, including energy, sustainability, construction and facilities, finance, and retail. She brings two decades' experience leading high-performing, global and community-based teams, both vertically and in matrixed environments. She is known for her ability to balance analytics and intuition to solve complex problems.
Most recently appointed by President Obama and confirmed by the U.S. Senate to be the Assistant Secretary of the Air Force (Installations, Environment, and Energy), a 4-star civilian equivalent position, Ms. Ballentine was an integral member of the Air Force's top executive team, alongside the Secretary of the Air Force and the Air Force's 4-star Generals. As a member of the c-suite of this $120 Billion organization, Ms. Ballentine was responsible for the oversight, formulation, and execution of plans, policies, programs, and budgets for: 170 Air Force installations; a $9 billion annual energy budget; a $4.5 billion annual construction budget; environmental conservation, restoration & compliance programs for nine million acres of land, 200 miles of coast line, 600,000 acres of forestland, and 270,000 acres of wetlands; safety & occupational health for 660,000 employees; and program execution by 50,000 engineers around the world.
Under her leadership as the Air Force's most senior energy official, the Air Force scaled energy resiliency and created a new Office of Energy Assurance, to make mission-assurance a central tenant of every energy project. She launched the Resilient Energy Demonstration Initiative (REDI), which developed and oversaw designs for smart, cyber-secure microgrids, including a "Future Forward Operating Base." She provided war-fighting Commanders, for the first time, with visibility to strategic risk-to-mission from kinetic and cyber-attacks to the power grid, Air Force energy assets, and industrial control systems. She oversaw energy policies for the nation's largest fleet of aircraft, facilitating efficiencies worth $1.2 Billion in savings. Ms. Ballentine garnered the trust and respect of top Air Force Generals and was awarded the Air Force's top citation for civilian leadership.
Prior to the Air Force, Ms. Ballentine served as the Director of Sustainability for Global Renewable Energy & Sustainable Facilities at Walmart Stores, Inc. In this role, she led a team of 60+ colleagues from fifteen countries to develop strategies toward Walmart's goal to be supplied by 100% renewable energy. These programs identified over $1 billion in potential annual energy savings and 9 million metric ton of avoided GHG potential. Ms. Ballentine served as a relationship architect, successfully building dozens of NGO partnerships to minimize negative public facing campaigns and capitalize on NGOs expertise.
Prior to the Air Force and Walmart, Ms. Ballentine was the Vice President of Investor Analysis and Chief Operating Officer at David Gardiner & Associates where she informed multi-million-dollar investment decisions by analyzing companies' off-balance sheet risks and opportunities. She has provided climate change, environmental, and sustainability strategies to Fortune 500 corporations, institutional investors, socially responsible investors, and environmental groups.
Ms. Ballentine is also a passionate and articulate public speaker, with experience across: media, conferences, motivational talks, and classrooms.
Ms. Ballentine holds a Bachelors of Science in Neuro-Psychology from Colorado State University, where she graduated Magna Cum Laude, and a Masters of Business Administration from George Washington University, where she finished in the top 5% of her class. She lives in Washington, DC with her husband, Roger Ballentine, and her daughter and step-daughter.